About JB Construction Inc.
JB Construction Inc. has been proudly serving Southern Alberta for over 25 years. Being locally owned and operated means we have very strong ties to the community in which we live and work – the main reason why our business success is dependent on our reputation. Our customers have come to know us for our tidiness, reliability, quality of work and professionalism. Part of our work process includes being accurate and diligent, as well as ensuring we have all of the information, materials and equipment needed to do the job right the first time. No matter the size of the project, our skilled and knowledgeable team can deliver amazing results – on time and on budget.
Meet the JB Management
Bill Bezooyen
Owner / Operator
403-634-4670
Email: bill@jbconstruction.ca
Brenda Bezooyen
Office & Safety Manager
Office: 403-345-4781
Cell: 403-330-6362
Email: brenda@jbconstruction.ca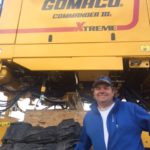 JB Construction Inc.
PO Box 1133 Coaldale, AB T1M 1M9
Phone: 403-634-4670
Office: 403-345-4781
Fax: 403-345-5855
Web: http://jbconstruction.ca/
Location: 201040 Hwy 512 OR SE 2-9-20 W4.
Directions: 2 Miles South of Coaldale on Hwy 845. 1/2 Mile East on Hwy 512. North side of road.
Email: bill@jbconstruction.ca